Learn to express your own flavor of the wild, colorful, Divine human being that you are!


A go-at-your-own-pace Intentional Creativity® experience to release you from the constraints of society's "rules" about who you need to be.
In this course, you will explore eight of your primary relationships and discover the contradictory beliefs, thoughts, and ways of being that established your inner conflicts in the first place, and how they still hold you back from expressing your authentic self.
The best part? You'll endeavor to learn how to integrate your many facets into your self-understanding as you achieve a deeper knowledge of your whole, wonderful, paradoxical self!
I've created a gentle creative process that is not only a catalyst for breakthroughs, but also for a long-lasting transformation. The result of the process, your painting, will be a touchstone of your journey.
As you peel away the inner layers of "stuff", you will add layers to your painting as if you were transferring from your subconscious energy field - the abstract dimension - to the canvas, and your physical reality. This process will bring you clarity, relief, and understanding.
I also provide rituals to support your journey, soothe your nervous system, and honor this deep revolutionary transformation.
Many of the inner paradoxes you experience are the products of your family relationships, education, culture, and economic attainment (sad, but true). Because of where you've been in your life already, your paradoxes will be unique to you.
The Gold package also provides two private sessions with me. Discovering your inner paradoxes is a very personal journey: I offer a space in which you can be heard without judgment or expectations, and where you will be guided to move through whatever is coming up for you.
If you are ready to know yourself better, to embody and express the extraordinary, multi-dimensional being that you are, join us!
Paradox
An Exploration of Your Inner World Through 8 Primary Relationships
Once you become aware of the ways you are living in
duality
within yourself,
what becomes possible?


Once you allow all the parts of yourself to come back, what becomes available to you - and how will you show up in your life differently?
Dear Fellow Travelers,
I've never liked being labeled. It makes me feel stuck and reduces me to a fraction of who I really am. When I was a younger woman, I didn't know what I know now: that I can be and express all of who I am, the dark and the light, the beauty and the ugly, the gentle and the wild. I pushed parts of myself aside and made other parts "wrong" so I could contort myself to fit the expectations of those whose love I wanted most.
No surprise, though, these parts would come to the surface, anyway. When this happened, negative responses were never far behind. I would be judged, rejected, and punished for expressing my true self. Sadly, I struggled alone by my own doing. I kept up a good front, hiding my inner divide from everyone around me.
One day about twenty years ago, it all came to a head. I realized my breathing was very shallow, as if all the repressed stuff had filled me up inside and there was no more room for air. My heart felt like it was being squeezed to death; I felt like a fraud and a zombie. I didn't share my feelings with anyone, but from that day forward, I knew things had to change.
The way we are and how we show up in the world impacts,
and is impacted by, our relationships.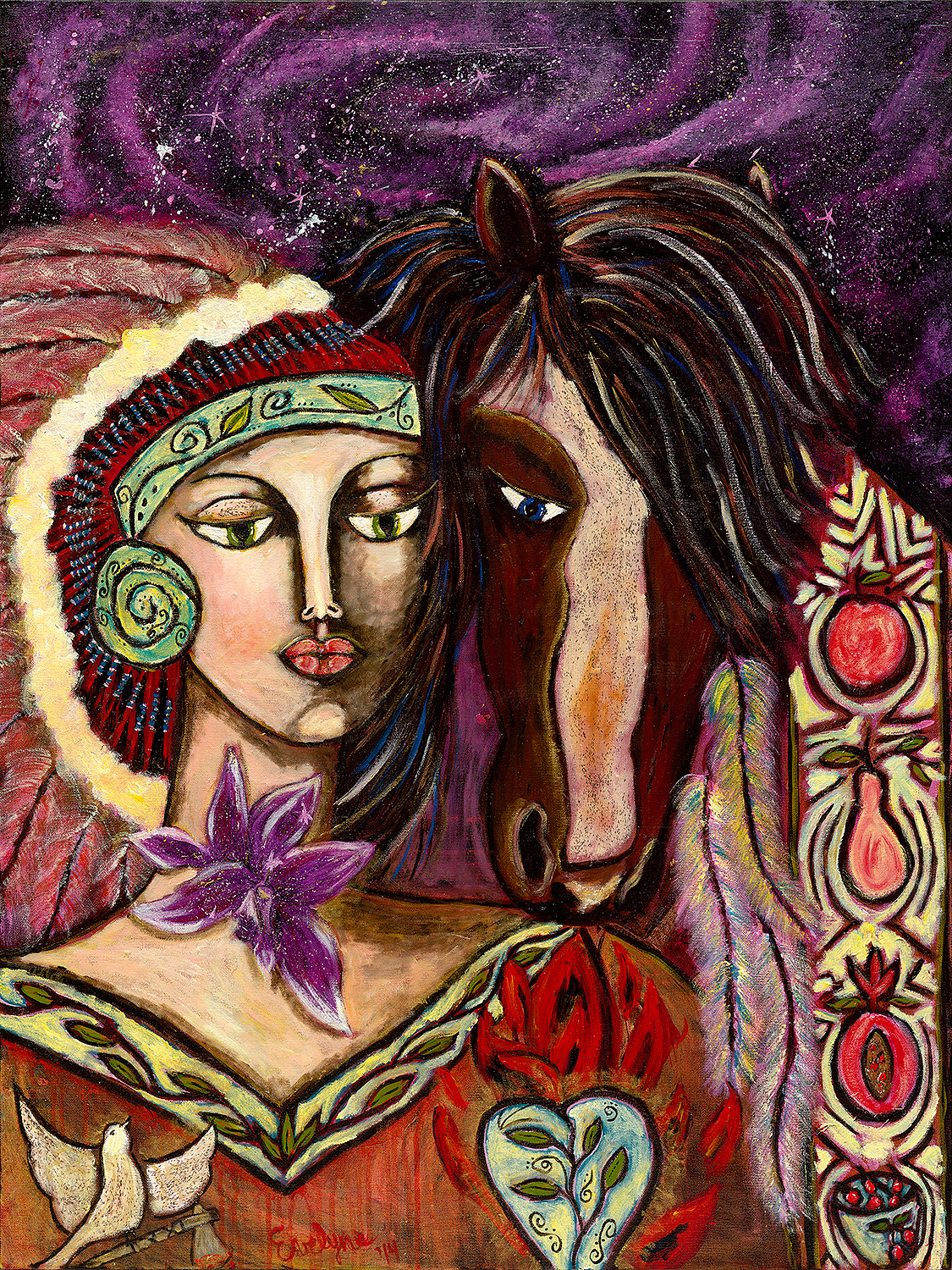 My journey into the world of Paradox started with an Intentional Creativity® painting process where I discovered soul symbols that represented my own paradoxes - a dove carrying a bloody ax, a burning fire in a heart where a seedling was growing, the cosmos both outside and inside the Being I painted - and I could go on. As I journaled on these symbols and over the years, I got really clear that we are so much more than what we show. We are complex human beings, we are not just one thing, we change and evolve, and many of us have yet to learn how to be all of who we are. 
You are not either/or... take a few moments and think about the paradoxes in your own relationships, in your overall existence. It might be difficult at first as it might be a new way of looking at yourself, that's why this course would be so good for you.
I'm very familiar with this exploration because I'm a living Paradox, too!
I'm a social introvert, but also a leader, and a follower. I'm lazy and I'm ambitious.
I have the heart of a hippie and I love luxury. I'm a visionary realist and a peaceful warrior, an insecure powerhouse. I feel the most free within a structure. I crave attention, but am also afraid of it, and often reject it when it comes my way. 
I'm no longer bothered by this; it's more like I'm fascinated. Yes, we are complex creatures - and that's a great way to be!
See Your Inner Paradoxes Through 8 Primary Relationships
My invitation for this course is to look at the ways that you operate as either/or, unconsciously judging and condemning parts of yourself in these eight primary relationships:
1- Yourself and your personal power
2- Intimate partners, family, and close ones
3- Others and community
4- Belonging
5- Identity and self-perception
6- Body and sexuality
7- Money
8- Cosmos, the Big Picture, the Divine
Each module contains: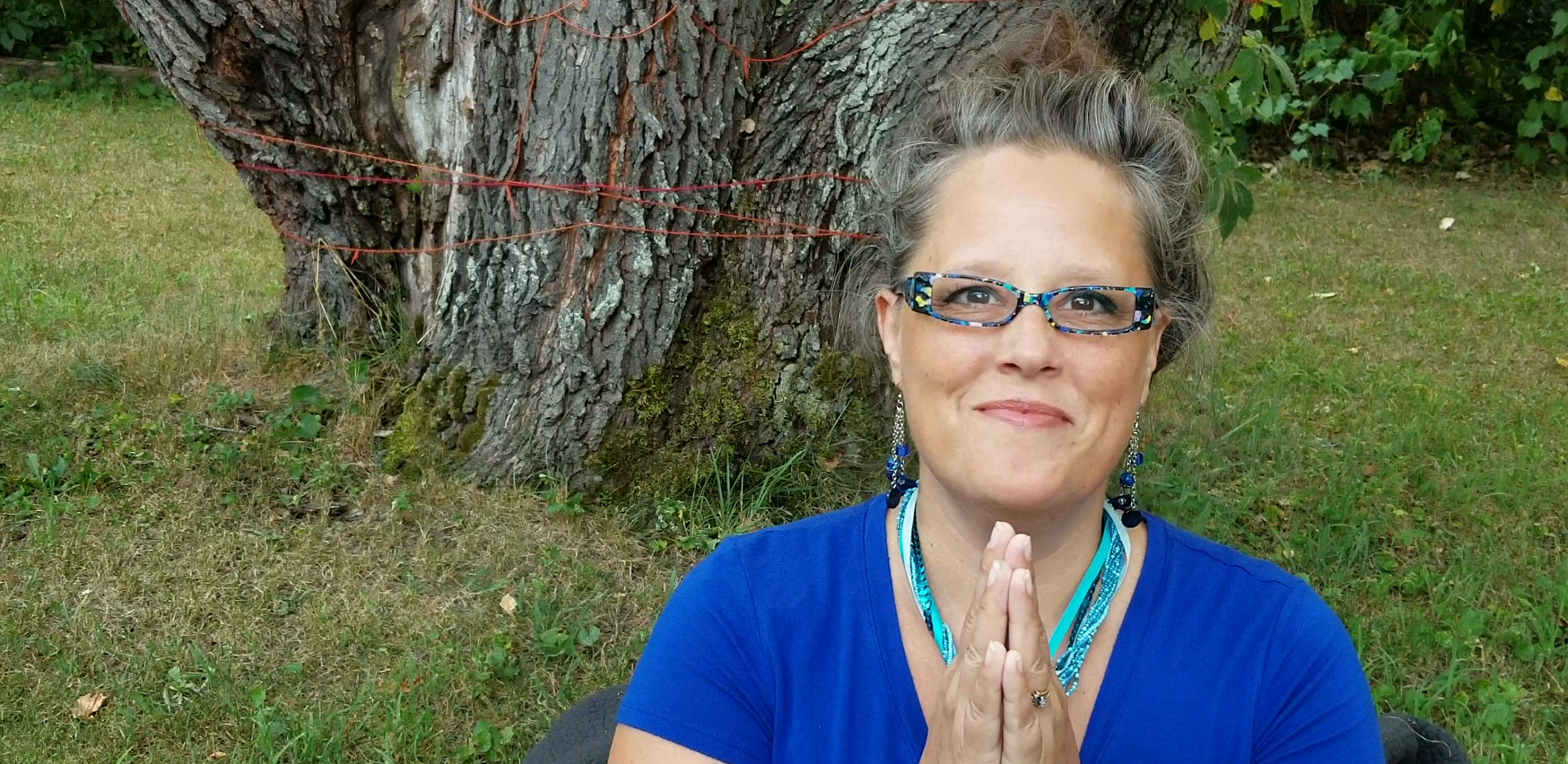 Teaching Videos & PDF Guide
An introduction to the theme/relationship with a series of inquiries that will lead you to discover the ways you are living in duality, rejecting some parts of yourself.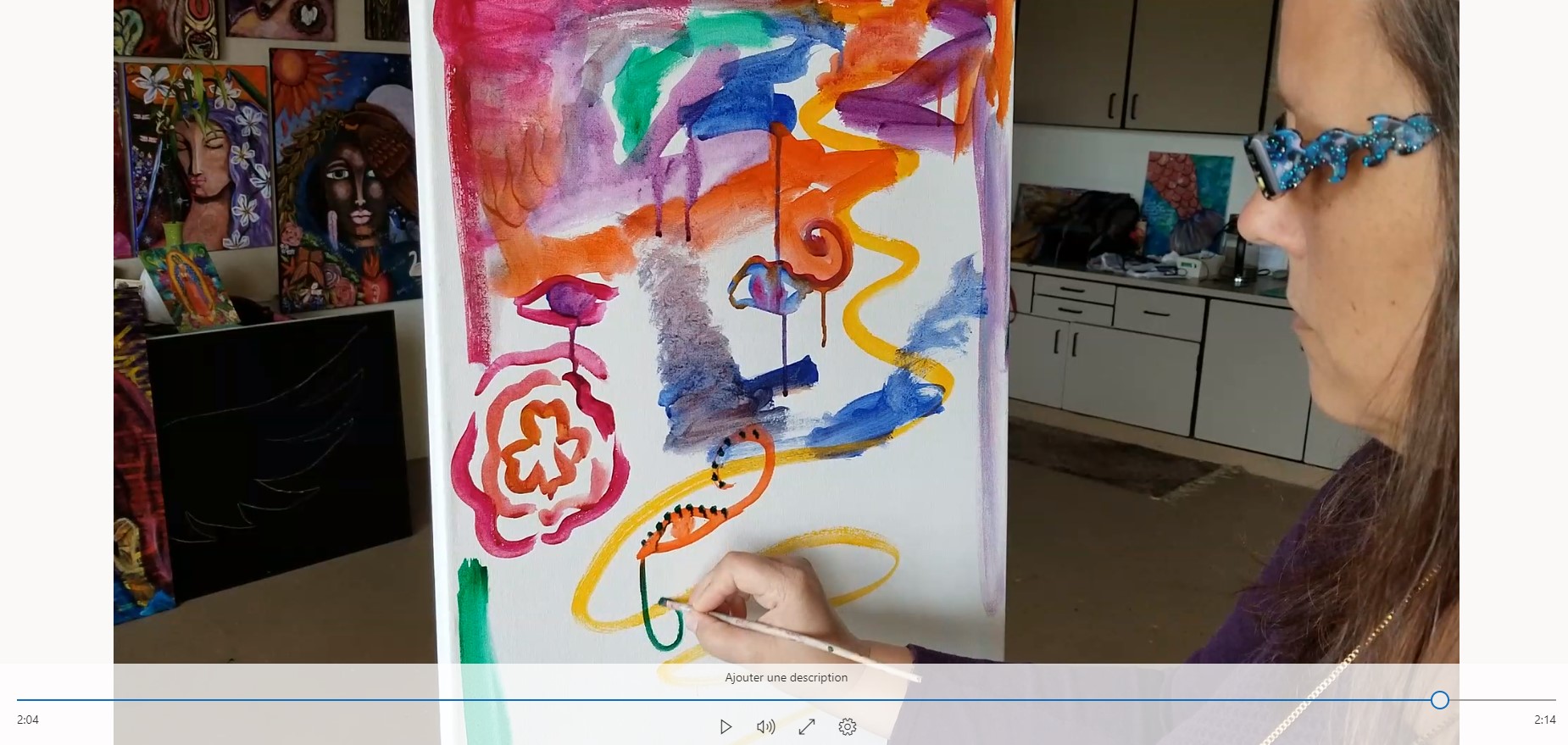 Intentional Creativity® process Videos
Once you discover the ways you live in duality within yourself, you will move to the canvas to start the healing of the divide, to invite a new perspective: paradox instead of duality. Paradox allows for what seems to be opposites to both be true. It allows for the full expression of yourself.
Using a creative process that is not based on outcome and performance but on the process as a way to understand oneself better is an extremely powerful medicine.
8 Modules - 8 creative steps - 8 layers on your canvas using a simple symbol: a moon within a sun.
Finally, to help you integrate this new way of thinking and being, you will involve your senses. You will dance, sing, visualize, and more.
When you stop making yourself wrong, when you
know yourself
and how you operate -
watch out world,
you will be unstoppable
!!!


You have no idea how much you hold yourself back from living your amazing life, from being your wise, wild self!
I know because I've been there. And I still go there sometimes, but I don't stay too long now because I know what to do, how to see myself honestly, and without judgement. 


Join me for Paradox!
Choose between the 2 packages below.
"
With this course on the Paradox, Coach Evelyne has laid out a series of bite-size lessons and rituals that actually fit into my busy life! Not only that, but I have looked forward to them throughout the process! All of which has made it possible for me to actually complete the course and, ultimately, move into a deeper sense of acceptance and wholeness, while truly enjoying the Intentional Creativity painting process. I am so grateful, mind, body, and soul.
"
Krista C (Traverse City, MI)
Start

identifying and acknowledging

the paradoxes within you by examining these eight primary relationships. 

Start an integration process

free from inner conflict

. Right now, you might see two seemingly opposite ways of thinking or feeling as being in opposition to each other, but you don't have to. You get to be both/and,

be in harmony

, and

express all of yourself without apology

.


Move from an "either/or" paradigm to one of "both/and."
Becoming aware of our inner paradoxes and going through the integration process can be challenging but it's also expanding, as it presents a new way of being - occupying our whole space, expressing all of who we are.
In this transformational journey, I will remind you to be compassionate with yourself, to be a witness of your thoughts and behaviors without bringing judgments on yourself or others. Think of it as if you're doing an inventory, then decide what the next step in your journey is based on what you find!
A sneak peak into Paradox
An 8- modules transformational journey for just $377 including two private sessions with me, or $197 without the session
In each module, you will explore one of your primary relationships. You will receive:
Video teachings and food for thought on our weekly topic, to help you understand yourself better.
Inquiries that will help you find the inner paradoxes that create confusion, conflicts, and constraints for you.
Videos of easy painting steps that provide space to go into a meditative state, massage your subconscious and unconscious, and access new insights about your paradoxes.
Guided visualizations, music, and an array of tools and rituals to support your self-discovery journey and start the healing of the inner division. Move from duality living to paradox, from either/or to both/and, from divided to integrated.
Module 1 - Explore your relationship to yourself and to power.
Module 2 - Dive into your relationship with your intimate partner and your close ones (children, siblings, parents)
Module 3 - Understand better your relationships with others (friends, colleagues, acquaintances) and your community at large.
Module 4 - Enquire into your relationship to belonging (being here, in this world, in your life, in your body, in your family).
Module 5 - Explore your relationship to your identity and perception (how you show up in the world and your perception of yourself in the world)
Module 6 - Move your attention to your relationship with your body and sexuality.
Module 7 - Discover the hidden paradoxes in your relationship to money.
Module 8 - Explore your relationship with the Cosmos, the Big Picture, the Divine - however you define it for yourself.
Paradox - An Exploration of Your Inner World Through 8 Primary Relationships
A power program you need to start healing your inner divide.
Stop making yourself wrong. Stop thinking either/or and expand your consciousness, your world so you can step into inner peace, acceptance, and love!
Join me for Paradox!!!
Choose between the 2 packages below.
"The music and rituals helped me using all my senses. Evelyne is empathetic and relatable when she shares about her own experiences. The layers of the painting gave it a sense of sacredness for all the emotions that were laid upon the canvas. My favorite part was the dance, it brought me to tears. Many of the rituals can be used long after the course os over as a reminder when one gets stuck trying to fit into society's mold.
This course is almost like a pass to be free from the restraints of forced conformity.
I feel that all who embrace this course will be kinder and more accepting of their own abilities to blend and shine with the changing rhythms of relationships and responsibilities. Evelyne is a true healer and the world is blessed by her presence."
Patrice Gustafson
Paradox is for you if:
You are on a spiritual path and the concept of moving from duality to Paradox is intriguing and exciting to you.
You love a deep self-exploration journey sprinkled with light and colors.
You are open-minded and curious about using your creativity as a way to access your wisdom and insights.
You commit to caring for yourself by being compassionate and loving.
This is not for you if:
You're looking for a technical painting class
You need someone to save you who isn't you
You aren't likely to do the work on your own
You're really looking for traditional therapy
Your humble Guide, Evelyne
I was born a seeker-wanderer AND a curious finder with the
gifts of listening, witnessing, and holding space
.


I'm also an intuitive artist who
loves to co-create with my awesome future self and the Divine
.
I know how to say "ENOUGH!"
to pushing aside parts of myself to fit in, to not inconvenience people, and not create waves. 


I know what it's like to walk on the path of integration and
hold the Paradox
of who I am without apology.


I am grounded and I fly
! I love the mystery and I've learned to hold the Paradox that I am! 


I love
guiding women to remembering who they are
and understanding their personal paradoxes through their own creativity. To see the stars in their eyes is magical!
I've
successfully guided hundreds of women
using Intentional Creativity® in person and online.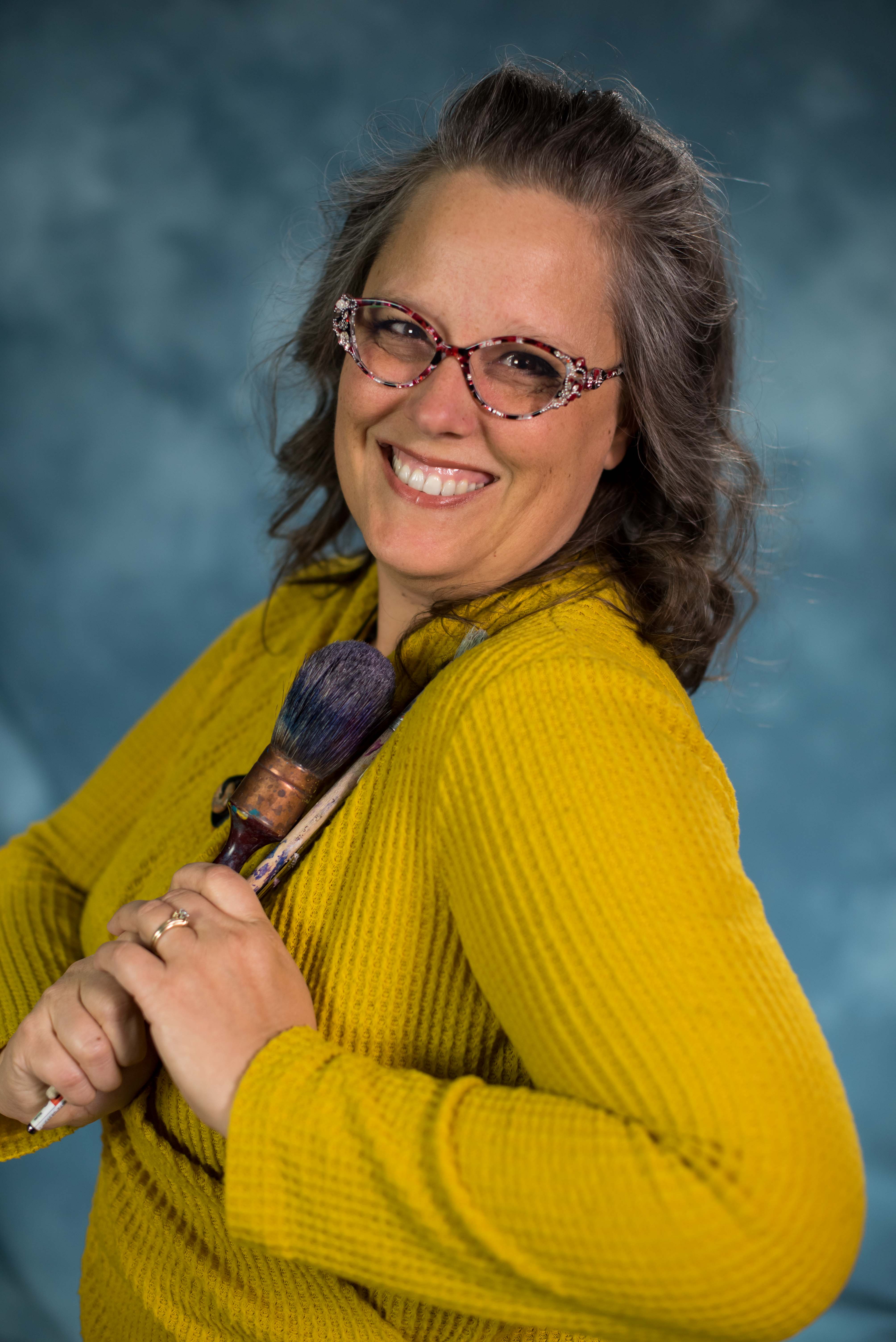 Will you join me?
Choose one of the options below.
Frequently Asked Questions
How long will I have access to the material?
You will have access to the downloadable material forever (if you download it of course), the videos for one year, and your completed painting for as long as you keep it! I recommend that you put reminders on your phone to bring your awareness back to the course just in case you forget. :)  
How much time will I need to complete the course?
Plan to spend about an hour per module: 30 minutes to journal and reflect on the inquiries and 30 minutes to do the painting step. That being said, each step is simple and meditative, so you might lose track of time as you travel in and out of your inner world. 
What supplies should I gather?
A personal journal
Water spray bottle
Acrylic paints: You will need a variety of colors for the underpainting. You'll definitely need titanium white, yellow, red, and dark blue.
Paper plate or palette
Jar of water
Old credit card or gift card (optional)
Old magazines with good images
(Links go to DickBlick.com and are examples only. I do not earn a commission from your purchase.)
Great question! Absolutely no painting experience is needed. If you can hold a brush, you can do this project! 
The painting part of this process is very simple and the instructions are clear; I guide you step by step. There is nothing that you can do wrong... let's celebrate that! How often does this happen!?!
The painting part of this self-discovery journey serves as a way to stimulate a different part of your brain that you might not use a lot. By doing this, you will notice things you might have forgotten or thoughts you weren't aware of before. The creative process serves not only as a catalyst for a breakthrough, but also for a long-lasting transformation.
Can I add private sessions with you later on?
Yes, if at any point you realize that you would like to talk with me about the work we're doing, email me directly at [email protected].
What's the difference between Birth of Paradoxia and this course?
Paradox guides you to discover your inner paradoxes in your relationships specifically and integrate your the different parts of yourself.
The Birth of Paradoxia introduces you to an archetype living inside of you that can guide you in your self-discovery journey. She helps you identify, integrate, reframe some ways of thinking, bring compassion and understanding to yourself. She is a loving and wise guide.


Do I need to have taken The Birth of Paradoxia before taking this course?
Each course is independent. You don't need to do one before the other.